Last update: 13 December 2019, 17:07 GMT
#

↑

↓

Name
Classic
+/−
Rapid
Blitz
Age
1

Hou Yifan

Hou Yifan

China

2664.0

0.0

2586.4
2627 i

25

2

Ju Wenjun

Ju Wenjun

China

2584.2

+4.2

2613.0
2536.0

28

3

↑1

Goryachkina

Goryachkina

Russian Federation

2583.2

+11.2

2499.0
2441.0

21

4
Live

Koneru

Koneru

India

2576.4

+2.4

2438.0
2489.0

32

5
Live

Muzychuk M

Muzychuk M

Ukraine

2553.8

−5.2

2509.4
2343.0

27

6

Lagno

Lagno

Russian Federation

2548.4

+1.4

2533.0
2606.0

29

7

↑1

Muzychuk A

Muzychuk A

Ukraine

2539.5

+2.5

2550.0
2491.2

29

8

↓1

Cmilyte

Cmilyte

Lithuania

2538.0

0.0

2394 i
2435 i

36

9
Live

Harika

Harika

India

2529.1

+11.1

2425.0
2445.0

28

10
Live

Dzagnidze

Dzagnidze

Georgia

2514.8

−5.2

2478.0
2409.0

32

11

Saduakassova

Saduakassova

Kazakhstan

2510.0

+5.0

2446.0
2390.0

23

12

↑3

Khademalsharieh

Khademalsharieh

Iran, Islamic Republic of

2493.9

+6.9

2421.0
2463.0

22

13
Live

Kosteniuk

Kosteniuk

Russian Federation

2493.4

+10.4

2544.2
2526.6

35

14

↑3

Lei Tingjie

Lei Tingjie

China

2493.3

+10.3

2498.0
2543.0

22

15

↓3

Tan Zhongyi

Tan Zhongyi

China

2492.8

−9.2

2496.0
2480.0

28

16

Kashlinskaya

Kashlinskaya

Russian Federation

2484.0

0.0

2315.6
2363 i

26

17
Live

Zhao Xue

Zhao Xue

China

2479.7

−5.3

2442.0
2407.0

34

18

↑1

Pogonina

Pogonina

Russian Federation

2479.0

0.0

2494.0
2311.0

34

19

↑1

Stefanova

Stefanova

Bulgaria

2476.0

0.0

2459.0
2479.2

40

20

↓6

Girya

Girya

Russian Federation

2474.0

−14.0

2424.0
2293.0

28

21
Live

Cramling

Cramling

Sweden

2472.6

+11.6

2431.2
2383.0

56

22

↓1

Paehtz

Paehtz

Germany

2472.1

−2.9

2392.2
2374.4

34

23

Javakhishvili

Javakhishvili

Georgia

2466.3

+3.3

2383.0
2332.0

35

24

↓2

Abdumalik

Abdumalik

Kazakhstan

2465.0

0.0

2484.0
2415.0

19

25
Live

Gunina

Gunina

Russian Federation

2460.0

−32.0

2437.6
2415.0

30

26

Zhu Jiner

Zhu Jiner

China

2459.2

−1.8

2361 i
2249.0

17

27

Mammadzada

Mammadzada

Azerbaijan

2455.0

0.0

2277.0
2314.0

19

28

↓4

Atalik E

Atalik E

Turkey

2447.5

−14.5

2360.0
2211.0

37

29

↓1

Batsiashvili

Batsiashvili

Georgia

2447.0

0.0

2425.4
2259.0

32

30

↓1

Khotenashvili

Khotenashvili

Georgia

2446.0

0.0

2413.0
2320.0

31

31

↓1

Shuvalova

Shuvalova

Russian Federation

2445.5

−0.5

2370.0
2302.0

18

32

↓1

Sebag

Sebag

France

2443.0

0.0

2413.2
2481.8

33

33

Galliamova

Galliamova

Russian Federation

2438.0

0.0

2378.0
2415.0

47

34

Arabidze

Arabidze

Georgia

2435.0

0.0

2416.0
2412.0

25

35

Bulmaga

Bulmaga

Romania

2434.0

0.0

2363.6
2363.8

26

36

↑1

Huang Qian

Huang Qian

China

2432.9

+3.9

2464 i
2311 i

33

37

↓1

Munguntuul

Munguntuul

Mongolia

2430.3

+0.3

2368.0
2282.0

32

38

Wang Jue

Wang Jue

China

2426.0

0.0

2421 i
2378.0

24

39

Hoang T

Hoang T

Hungary

2425.0

0.0

2338.0
2364.0

39

40

Nomin-Erdene

Nomin-Erdene

Mongolia

2425.0

0.0

2190.0
2298.0

19

41

Krush

Krush

United States

2422.0

0.0

2415.0
2371.0

35

42

↓10

Ding Yixin

Ding Yixin

China

2421.9

−17.1

2374 i
2328 i

28

43

↓1

Tokhirjonova

Tokhirjonova

Uzbekistan

2421.0

0.0

2330.0
2236.0

20

44

↓1

Zatonskih

Zatonskih

United States

2420.0

0.0

2403 i
2374 i

41

45

↓1

Skripchenko

Skripchenko

France

2418.0

0.0

2227.0
2298.0

43

46

Yip

Yip

United States

2418.0

0.0

unrat.
1708 i

16

47

↓2

Kulkarni Bhakti

Kulkarni Bhakti

India

2416.0

−2.0

2325.0
2224.0

27

48

↓1

Ushenina

Ushenina

Ukraine

2416.0

0.0

2439.0
2424.0

34

49

↑7

Guo Qi

Guo Qi

China

2414.2

+8.2

2446 i
2338 i

24

50

↓2

Hunt

Hunt

England

2414.0

0.0

2391 i
unrat.

41
Current Events:
1
2nd Women FIDE GP Series 2019, Web (9/11)
3 - 14 Dec 2019, Monte-Carlo (Monaco)
Koneru, Goryachkina, Muzychuk M, Lagno, Muzychuk A, Dzagnidze, Harika
Future Events:
1
Women World Champ. Match 2020, Web (10)
? Jan 2020, Shanghai / Vladivostok (China/Russia)
Ju Wenjun, Goryachkina
2
Bundesliga 2019/20, Web (4/15)
(next 8 Feb) 23 Nov - 2 May 2019/20, (Germany)
Hou Yifan
Finished Events:
1
Chinese League (Div. A) 2019, Web (22/22)
9 Apr - 7 Dec 2019, (China)
Ju Wenjun, Tan Zhongyi
2
Women European Champ. (rapid) 2019, Web (11/11)
30 Nov - 1 Dec 2019, Monte Carlo (Monaco)
Muzychuk A, Kosteniuk, Muzychuk M
3
Salamanca Chess Festival (rapid) 2019, Web (7/7)
27 - 30 Nov 2019, Salamanca (Spain)
Hou Yifan
4
Women European Champ. (blitz) 2019, Web (13/13)
29 Nov 2019, Monte Carlo (Monaco)
Kosteniuk, Muzychuk A
5
Isey Skyr Chess Festival 2019, Web (9/9)
19 - 29 Nov 2019, Selfoss (Iceland)
Saduakassova
Review Chess Games played by 2500+ woman players:

You may review the most recent games of women chess players rated 2500+ in the tournaments box: please select the tournament and the number of the round, then click on a game to activate our chess board. Once you have finished reviewing a game, you can click on the "Select game" icon at the top left hand corner of the tournaments box to return to the tournaments list.
---
Friday 13 December
2nd Women FIDE GP Series 2019, Web
Round 10, starts at 14:00 GMT
Goryachkina
:
Muzychuk A
Cramling
:
Koneru
Gunina
:
Muzychuk M
Paehtz
:
Lagno
Dzagnidze
:
Zhao Xue
Harika
:
Kosteniuk
Banners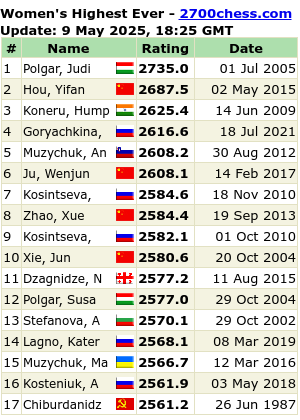 If you have your own site or blog, we are happy to offer you use of the Top 10 Players banner. This banner is updated automatically. That is, every time there is a change to the Top 10 on our web page, your Top 10 banner is updated simultaneously.
You can get the source code of either the 300px or the narrower 200px width for these banners by going to the LIVE GAMES section.
If there is any information that we may have missed that involves women players rated 2500+, please contact us via email: info(at)2700chess.com.