Last update: 23 April 2019, 06:36 GMT
Current Events:
Future Events:
1
Chinese League (Div. A) 2019, Web (4/22)
(next 7 May) 9 Apr - 7 Dec 2019, (China)
Ju Wenjun, Koneru, Tan Zhongyi, Lei Tingjie
2
Women Candidates Tournament 2019, Web (14)
30 May - 17 June 2019, Kazan (Russia)
Lagno, Muzychuk M, Kosteniuk, Muzychuk A, Gunina, Dzagnidze, Tan Zhongyi, Goryachkina
3
Women European Club Cup 2019, Web (7)
9 - 17 Oct 2019, Budva (Montenegro)
Many 2500+ players
Finished Events:
1
Women European Championship 2019, Web (11/11)
11 - 22 Apr 2019, Antalya (Turkey)
Goryachkina, Dzagnidze, Kashlinskaya
2
Bundesliga 2018/19, Web (15/15)
10 Nov - 7 Apr 2018/19, (Germany)
Hou Yifan
Review Chess Games played by 2500+ woman players:

You may review the most recent games of women chess players rated 2500+ in the tournaments box: please select the tournament and the number of the round, then click on a game to activate our chess board. Once you have finished reviewing a game, you can click on the "Select game" icon at the top left hand corner of the tournaments box to return to the tournaments list.
---
Monday 22 April
Women European Champ 2019, Web
Round 11, starts at 8:00 GMT
Stefanova
1 : 0
Gaponenko
Narva
0 : 1
Goryachkina
Sebag
½ : ½
Dzagnidze
Banners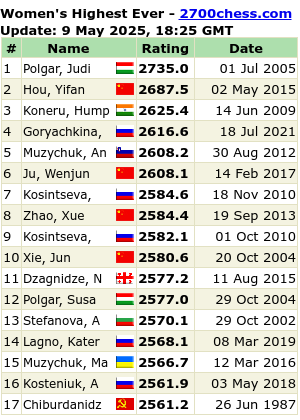 If you have your own site or blog, we are happy to offer you use of the Top 10 Players banner. This banner is updated automatically. That is, every time there is a change to the Top 10 on our web page, your Top 10 banner is updated simultaneously.
You can get the source code of either the 300px or the narrower 200px width for these banners by going to the LIVE GAMES section.
If there is any information that we may have missed that involves women players rated 2500+, please contact us via email: info(at)2700chess.com.